As a professional services organization, Evans Consulting believes that promoting best practices for the effective administration of student financial aid is essential to the public good. To that end, we leverage technology whenever possible to facilitate knowledge sharing with our school clients and the higher education community at large.
In the interview below, Evans Consulting Vice President for Technology Ivan Santana explains a new tool for enabling collaboration and expediting financial aid consulting services to schools.
 *****
What is the AskEvans app?
The AskEvans app is a free application for mobile devices available from the Apple or Google Play stores. The app is designed to give higher education professionals easy access to the expert financial aid resources at Evans Consulting. With just the press of a button, users can quickly submit any type of student financial aid compliance question or request consulting services.
Why did Evans Consulting develop the AskEvans app?
With the explosion of mobile apps and telepresence technology, reaching an expert to help answer basic financial aid compliance questions or request professional services should be just a matter of a few finger taps on your smartphone… The AskEvans mobile app addresses these needs. Such a helping hand literally puts the collective knowledge of dozens of consulting professionals with decades of experience in financial aid management at your fingertips.
For today's higher education professionals, having access to needed information and services through a mobile device simply makes sense.
What kind of mobile devices support the AskEvans app?
Currently, the app is available for iPhones and Android smartphones.
How does the app work?
After installing the app from the Apple or Google Play store, users will set up their login credentials. From there, the app is incredibly easy to use.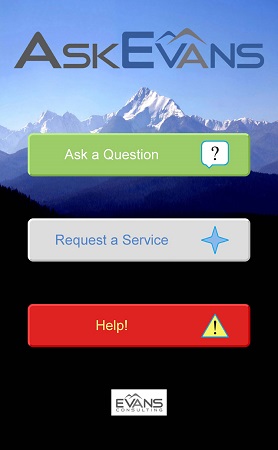 As displayed on the left, the app includes three main functions:
Ask a Question – This option allows users to enter a general question about a financial aid management or compliance topic using a free-form field. An expert from Evans Consulting will return a response within 24 to 48 hours.
Request a Service – Log in a request for one of our core financial aid consulting services, which include: Assessment & Compliance, Interim Management, General Consulting, Training and Financial Aid Processing. We will contact you within two to four hours (even weekends) to schedule a follow-up conference call and initiate a statement of work for the requested service.
Help! – Use this option for immediate assistance with an urgent matter regarding your school's financial aid operations.
Are there any restrictions to using the AskEvans app?
The application is completely free; however, users will be limited to two questions per month to be answered by our pool of experts. (This restriction does not apply to our active clients.)
Any final thoughts on the new app?
We believe the AskEvans mobile app is a revolutionary tool that will allow our higher education colleagues to work smarter (not harder), and enhance their own core capabilities by leveraging the innovation and expertise of Evans Consulting. The app is one more way that we demonstrate our core values to collaborate, enable and deliver great services for schools.